Are We Telling the WHOLE Story?
The interpretation of historic houses for many visitors seems to be the same story, different house. Whether it be the home of a revolutionary leader, southern plantation owner, or an author of a famous book (or not so famous) the stories are often of the rich white owner, his genealogy and his Chippendale, Sheraton, or Empire furnishings. Michelle Zupan refers to this in her blog of October 31, 2013 as the "Great Man House Tour."  It is encouraging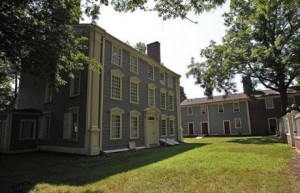 that this is changing. The interpretation of a site must be complete and relevant to people today, to make a connection to people's lives otherwise the site is what some call a "Dead House." One exceptional example of a site that is successfully connecting contemporary topics to issues in the past is the Harriet Beecher Stowe Center in Hartford. One way this is achieved is through Salons at Stowe designed to inspire the audience "to move from dialogue and debate to action on current social justice issues."
Much has been written about the efforts to discuss the whole story from woman to children to slavery in major sites such as Monticello. But even smaller sites are now telling a story that was kept hidden. In Medford, Massachusetts, The Royal House, for years told the story of merchant Isaac Royal and his son and their magnificent Georgian house ignoring that on the property stands the only remaining slave quarters in the northern United States! The site now renamed the Royal House and Slave Quarters is committed to telling the intertwined stories of wealth and bondage. More and more sites are telling the story of servants, and immigrants. But these are not the only stories, there are dozens that need to be told. A number of sites are telling LGBT stories such as at Beauport in Gloucester, Massachusetts. Historic New England is now interpreting the site as the home of a gay man. Some sites have been reticent to tell these and the other stories because they are deemed controversial but I argue that they are relevant and need to be told. Telling these stories can only help us engage audiences in the 21st century.