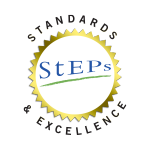 Exciting changes are happening at the 800+ organizations taking part in the StEPs program (Standards and Excellence Program for History Organizations).
Our "StEPs Spotlight" series highlights accomplishments by the participating organizations. 
Join us each month to read how StEPs is helping these organizations take a leap forward by improving policies and practices, opening lines of communication, and setting goals for a bright future. 
Pioneer Museum
Fredericksburg, Texas
The Pioneer Museum in Fredericksburg, Texas is operated by the Gillespie County Historical Society. Founded in 1935, the society preserves and shares the history of Fredericksburg, Gillespie County, and the surrounding Texas Hill Country.
The site of the first Pioneer Museum was the Vereins Kirche, a 1935 replica of the original structure. In 1955, the society bought the historic Kammlah house, store and property. With other purchases and donations, the Pioneer Museum site has grown to encompass three acres and eleven buildings. The society also preserves and manages a collection of more than 300,000 artifacts.
The Gillespie County Historical Society employs thirteen paid staff, three of whom are full-time. It has a volunteer corps of 120 people. It enrolled in StEPs in early 2015. To date, the museum has earned a Bronze certificate in the Audience section.
What would you say is the most significant improvement within your organization as a result of taking part in StEPs?
StEPs has helped us to be more forward thinking about where we want to go rather than getting stuck in day-to-day challenges.
Can you offer specific examples of other positive changes within your organization as a result of StEPs?
The program has given us the motivation to locate important documents and put them one place.
Helped us quit assuming and actually know what the national standards are and how we measure up to them.
It's been gratifying to learn that we are already doing some things well.
StEPs has helped us come together as a team to work for the good of the museum.
Our credibility in the community has increased as people come to understand we are  committed to this assessment process.
Tell us how your organization is making its way through the program.
We are addressing performance indicators at the Basic level across six sections; then we'll address the Good level and then the Better one. We have a schedule and matrix (i.e., who does what by when) for all sections. The schedule sets two deadlines per year until all Basic performance indicators across the six sections are met by October 2018.
We have completed the Audience section at the Basic level and are now addressing the Stewardship of Collections section. In these two sections, staff is completing the assessment. This is more time efficient because we work together every day, know the work, and can stay on task. We recruit additional ad hoc help as required for a specific section. We keep meetings to a minimum and connect via email and text.
The board of directors, which approved this plan, receives regular updates. When we have completed the indicators for a section, we write a full report restating the standards and indicators and exactly how we have fulfilled them. The Board then feels confident to authorize the certificate.
Has your organization been able to use StEPs as leverage in fundraising or in other ways?
Not yet, but that's certainly our plan!
What advice do you have for organizations just getting started in StEPs?
Address one level across the six sections and then circle back to do the next level. Take it slow so you'll learn from each section. Schedule them out. The temptation will be to rush through to get the certificates. Take 3-6 months to do even the ones you already do pretty well. Be more interested in what you'll learn about your current operations than "getting the assignment finished."
Keep talking about it to your board so they'll stay informed and speak about it to friends and colleagues. Speak to local civic clubs about it. Talk only in positive terms about what you're learning rather than "all the things we need to fix."
Finally, which section of the workbook has been your favorite?
So far, it's been Audience, but the staff is looking forward to completing Interpretation because that's our greatest need to refresh and renew.
Our thanks to Dr. Jeryl Hoover, Pioneer Museum Executive Director, for providing information for this blog post.
Pioneer Museum Website | Pioneer Museum Facebook |