Nolan Dahm and Lauren Wallace in Washington, DC at Museums Advocacy Day 2023.
Each year, the American Association for State and Local History is a supporter of the American Alliance of Museums' Museum Advocacy Day. This event draws museum people from around the country to speak up for museums by meeting with members of Congress and their staff in Washington, D.C. In this guest post two staff members from the Charlotte Museum of History share their experiences as first-time attendees at Museum Advocacy Day 2023.
By Nolan Dahm, Programs and Exhibits Manager, and Lauren Wallace, Development Director, Charlotte Museum of History
As we write this post, it is the third anniversary of our museum temporarily closing its doors at the start of the COVID pandemic. While these last few years have brought intense challenges, they have also underscored the value of our cultural institutions. Museums can be powerful influences—inspiring, educating, and reminding us all that no matter how small we are, we can change the world.
Over the last three years, many in our city and across the country have realized that museums aren't just nice to have—they are integral to the fabric of our communities. A case in point: last month our museum hosted its sixth annual African American Heritage Festival. Attendance far surpassed any previous festival we had hosted, and it was our largest single-day attendance in almost 10 years! The next morning, we hopped in the car and headed to Washington to advocate for museums across the United States.
Sitting in a room, surrounded by other passionate museum professionals, we heard similar stories about the resiliency of our industry. But more than that, we saw what museums were able to accomplish when our government and our communities invested in our missions. These investments did more than create innovative programming. They also employed artists, storytellers, actors, and small businesses owners. They got people on planes, in cars, and in hotels to see new exhibitions and attend programs. In doing so, they actively contributed to the economic and social recovery of our communities.
On February 28, we got to share these stories with our own elected representatives during Museum Advocacy Day. As first-time participants, we were excited for this unique opportunity to speak about the broad impact of our field. This type of advocacy is fundamentally different than the traditional relationship-building we commonly employ in museum development. We only had about 15 minutes to make our case. But those short conversations were bolstered by the groundwork already laid by teams at the American Alliance of Museums (AAM). Together with the work of our elected representatives and their staffs who champion our cause with their colleagues, this foundation sets advocates like us up for success.
This year's asks included $65.5 million in funding for the federal Institute of Museum and Library Services' Office of Museum Services (OMS), along with support for the Charitable Giving Act, which would make it easier for non-itemizers to receive a tax deduction for their donations. We are incredibly grateful to AAM and their speakers for helping prepare us to make this case and for showing us how to navigate the intricate dance of appropriations conversations on the Hill.
$65.5 million is a big number, but it represents less than half of the money needed to fund the well-qualified requests the OMS receives each year. This funding could be a great boost to the economic and cultural life of our home state of North Carolina, where museums already account for 17,600 jobs statewide.
Our museum does not receive funds directly from the OMS, but we do benefit from federal funding through grants from North Carolina Humanities, the local affiliate of the National Endowment for the Humanities. Last year, those funds helped us host an exhibit featuring the history of Rosenwald Schools. That one exhibit more than doubled our annual attendance, while sharing an often untold chapter in the story of education and segregation in the early 20th century.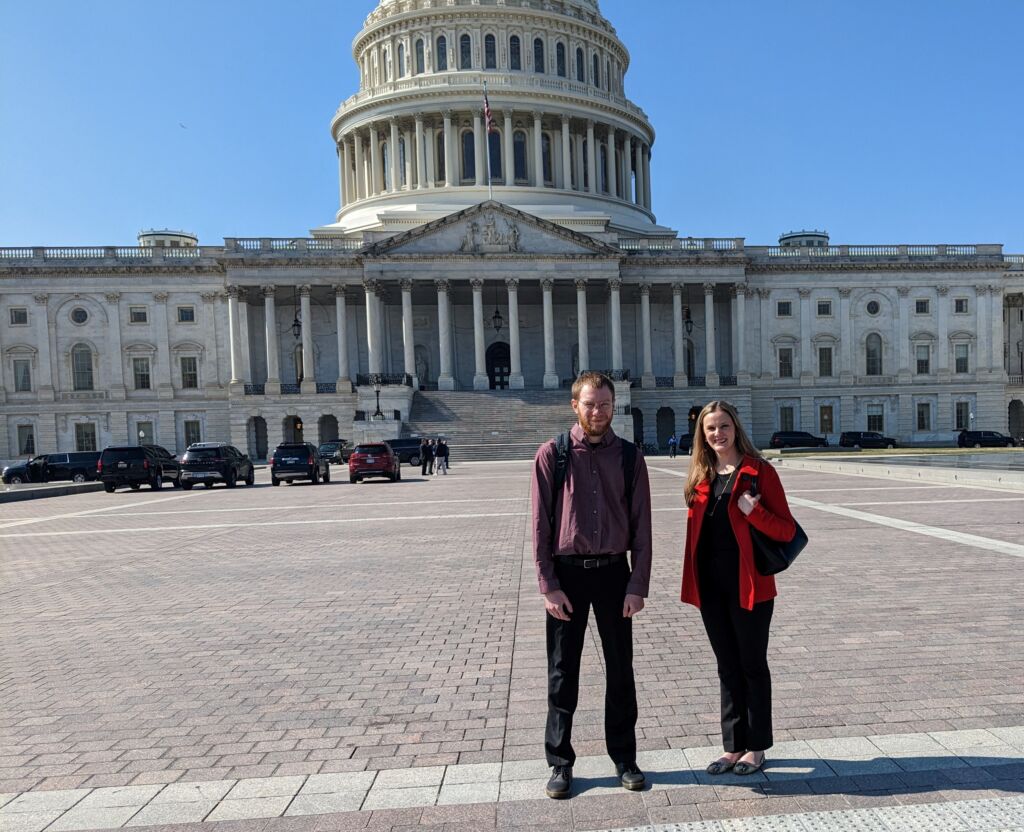 In addition to grants, our organization relies heavily on individual donors, but not everyone receives the same tax benefits for their donations. If all Americans could write off their donations starting with the first dollar, we could greatly expand the number of people willing to give money to museums and other essential nonprofits. During the COVID era, Congress allowed write-offs of up to $300 per individual, which led to a flood of donations in exactly that amount and emphasized that people respond to such tax incentives.
Walking the halls of Congress was an amazing experience in and of itself, a privilege we shared with Annah McRae from Blackbaud and Stephanie Ridley from the Morehead Planetarium and Science Center. At lunch the day prior, a gentleman sitting at our table remarked on what a uniquely American experience this was, to walk the halls of your nation's legislative building, to sit in those offices, and to advocate for the things you care about. In 1775, Hezekiah Alexander—the man whose home our museum preserves and protects—risked his life to have a say in how his community was governed. Surrounded by the grandeur of our nation's Capitol, we couldn't help but feel a connection to this history, together with a deep appreciation for all the people who fought and worked over the last two centuries to ensure that ordinary people like us could be heard at the highest levels of our government.