As we prepare for the 2017 Annual Meeting in Austin, the Educators and Interpreters Affinity Group Committee is trying an experiment. We're giving presenters who are chairing sessions with education and interpretation themes a chance to give readers a little more information about them – a teaser, if you will. We'll share two to three sessions each week. We hope this will be helpful to prospective conference attendees and presenters alike. Please share your thoughts and comments with us!
(If you haven't heard from us and you'd like to share a post on your workshop or session, drop a line to Sarah Jencks at sjencks@fords.org)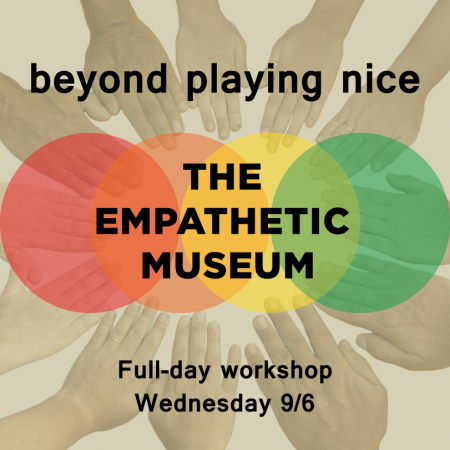 Workshop: The Empathetic Museum: Beyond Playing Nice
Wednesday, September 6, 8:30 am – 5 pm
Chair: Stacey Mann, Learning and Interpretation Strategist/Museum Consultant
This full-day workshop requires pre-registration.
Visitor-centered. Civic-minded. Diverse. Inclusive. Welcoming. Responsive. Participatory.
Meeting the challenges of today's museum landscape is increasingly critical to the health and success of our institutions. But making the necessary changes—truly investing in our collective future—is impossible without an inner core of institutional empathy: the intention of the museum to be, and be perceived as, deeply connected with its community.
Get ready for an honest assessment of institutional practices, the work of museums, and the role we as museum professionals play in addressing issues of representation, equity, and diversity within the industry. Facilitators Janeen Bryant and Stacey Mann will engage the group in dialogue and activity-based challenges to identify empathetic best practices, build cultural competency, and cultivate leadership in the field around the importance and potential of institutional empathy in modern society.
We hope to see you there!
www.empatheticmuseum.com
Session: Engaging Programs = Engaging Communities?
Thursday, September 7, 11 am – 12:15 pm
Chair: Max van Balgooy, President, Engaging Places, LLC
Educators and interpreters are increasingly expected to engage the community to build support, attract audiences, and confront contemporary issues. So how do you get started? What does an effective community engagement project look like? How do you maintain it?  We'll bring together three projects—Haymarket in Boston, James Madison's Montpelier in Virginia, and El Pueblo History Museum in Colorado—to discover how they successfully engaged three different audiences in the local community—immigrants, African American descendants, and teenage girls.  Based on their experiences and with contributions from the session participants, we will create a list of practical advice and guidance for community engagement projects that could form the basis of best and future practices for the history field.
Can't attend? We'll share our results at www.EngagingPlaces.net.
Check out other sessions and workshops listed in our Annual Meeting Program Guide!