Trying to find the perfect gift for friends or family in the public history field? We all know history lovers are book lovers, so here are a few go-to titles for any special occasion. Our list includes a few AASLH publications along with some from our members and friends in the field. We've included a classic or two along with titles hot off the press. So, without further ado: The AASLH Gift Guide for History Lovers & Museum Professionals.
Interpreting History Series
Edited by Russell Lewis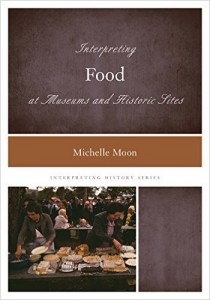 This ongoing series provides expert, in-depth guidance in interpretation for history professionals at museums and historic sites. Each book in the series delves into a specific difficult or contested subject, enabling institutions to place their interpretive efforts into a larger context, despite each having a specific and often localized mission. Volumes include African American History, LGBT History, Slavery, Native American History, Prohibition, and Immigration. Buy the books.
Anarchist's Guide to Historic House Museums
By Franklin D. Vagnone and Deborah E. Ryan
This is one of the hottest books in the museum field, sure to become an instant classic. In these days of an aging traditional audience, shrinking attendance, tightened budgets, increased competition, and exponential growth in new types of communication methods, America's house museums need to take bold steps and expand their overall purpose beyond those of the traditional museum. They need not only to engage the communities surrounding them, but also to collaborate with visitors on the type and quality of experience they provide. This book  is a ground-breaking manifesto that calls for the establishment of a more inclusive, visitor-centered paradigm based on the shared experience of human habitation." Buy the book.
The Small Museum Toolkit
Edited by Cinnamon Catlin-Legutko and Stacy Klinger
The Small Museum Toolkit is a collection of six books that serves as a launching point for small museum staff to pursue best practices and meet museum standards. These brief volumes address governance, financial management, human resources, audience relations, interpretation, and stewardship for small museums and historic sites. The six books can be read in any order and are available to purchase individually. Buy the books.
Caring for Your Historic House
By Heritage Preservation
This thorough volume published by Heritage Preservation features twenty chapters written by leading preservationists. Topics include structural systems, fire protection, interior and exterior paint, wallpaper, flooring, lighting, heating systems, and other essential issues for maintaining and restoring historic houses. Photographs and how-to-guides make this an important resource for preservationists and homeowners. Buy the book.
Zen and the Art of Local History
Edited by Carol Kammen & Bob Beatty
Zen and the Art of Local History is an engaging, interactive conversation that conveys the exciting nature of local history. Each chapter features Carol Kammen's memorable editorials from History News. Her editorial is a "call." Each is followed by a response from one of more than five-dozen prominent players in state and local history.The result is a series of dialogues on important topics in the field of local history. The interactivity of these conversations makes Zen and the Art of Local History a unique offering in the public history field. Buy the book.
Cities, Museums and Soft Power
By Gail Lord and Ngaire Blankenberg
In Cities, Museums and Soft Power, respected museum planners Gail Lord and Ngaire Blankenberg demonstrate why and how museums and cities are using their soft power to address some of the most important issues of our time. Soft power is the exercise of influence through attraction, persuasion and agenda-setting rather than military or economic coercion.  Fourteen of the world's leading museum and cultural experts explore examples from six continents of the many facets of soft power in museums: how they amplify civic discourse, accelerate cultural change, and contribute to contextual intelligence among the great diversity of city dwellers, visitors and policy-makers. Buy the book.
Environmental Sustainability at Historic Sites and Museums
By Sarah Sutton
Growing public interest in environmental sustainability is a gift to historic sites and museums. It is an invitation to use our knowledge, collections, and sites to discuss how human practices and interactions with the environment in past were – and were not – environmentally sustainable. Being green still has a great deal to do with using less energy, buying less stuff, and recycling more, but now sustainability just as important in strategic planning, interpretation and public engagement. Environmental Sustainability at Historic Sites and Museums details how to go green at every level of your organization. Buy the book.
On Doing Local History
By Carol Kammen
For over thirty years, Carol Kammen's On Doing Local History has been a valuable guide to professional and "amateur" historians alike. First published in 1986 and revised for the third edition in 2014, this book offers not only discussion of practical matters, but also a deeper reflection on local, public history, what it means, and why it is done.With the same passion (and now even more experience) that drove her to write the first edition, Kammen has brought her seminal work into today's context for the next generation of local historians. Buy the book.
Creativity in Museum Practice
By Linda Norris & Rainey Tisdale
With this book museum professionals can learn how to unleash creative potential throughout their institution. Drawing from a wide range of research on creativity as well as insights from today's most creative museum leaders, the authors present at a set of practical principles about how museum workers at any level—not just those in "creative positions"—can make a place for creativity in their daily practice. Replete with creativity exercises and stories from the field, they guide readers in developing an internal culture of creative learning, as well as delivering increased value to museum audiences. Buy the book.