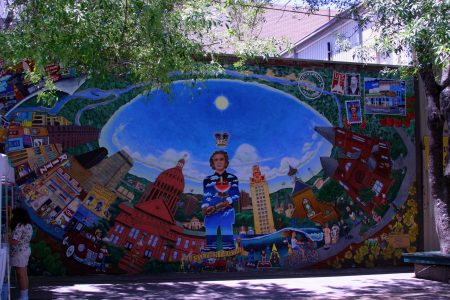 By Hannah King, Stevens County Historical Society, Morris, MN
Thanks to the Small Museums Scholarship program, I was able to attend the AASLH Annual Meeting last month in Austin, Texas. One of our 2017 goals at the Stevens County Historical Society has been to increase our community outreach and engagement, so it was exciting to participate in an entire conference dedicated to the same goal. And while the conference included museums of every size, the small museum program helped create connections among small museum staff and spark conversations between organizations of different sizes. 
While waiting for the opening keynote to begin, I chatted with two other attendees about the conference and about museum work. Though I could see it coming, I was still unprepared for the question "Do you know what part of the museum field you want to go into?" Slightly embarrassed, I explained that I was, in fact, already the curator at a small museum. We were able to laugh it off and move on, but it reminded me of similar interactions with board members, coworkers, and volunteers at various jobs and internships over the years. As an emerging museum professional who apparently has a baby face (I'm almost 30, I swear!), sometimes it takes a little extra work to be recognized as a professional with experience and expertise to share. And at a small museum in a rural area where peers are distantly scattered, it can be hard to find someone who can both commiserate and offer advice. The AASLH Annual Meeting provided space to connect with others who share my experiences and uncertainties.
While there were plenty of presenters who had more staff, bigger budgets, and seemingly a much easier time stepping into an authoritative role, I also attended sessions where I heard stories similar to mine. Alongside practical tips and new ideas, presenters and attendees alike gave inspiration to all of us still struggling to prove ourselves. The session Workplace Confidential: Museum Women Talk Gender provided a space to share stories and tactics dealing with the extra burdens often associated with being a working woman. Many of those burdens overlap with perceptions of youth, especially when dealing with older generations. The Small Museums Luncheon, which was part of the scholarship, also provided an excellent space to connect with people dealing with some of the same problems across the country. From cheap environmental monitoring hacks to scaling conference topics for small (or nonexistent) program budgets, I learned a lot from fellow conference goers. I was even able to share a few things of my own – it was so nice to meet other people who get excited about collection management programs! 
After returning to Minnesota, I was able to share what I had learned with coworkers. I came away with a list of community engagement strategies and hope to incorporate several of them into upcoming exhibits and events. Hopefully we can bring the same sense of connection and conversation I found at the conference to our community