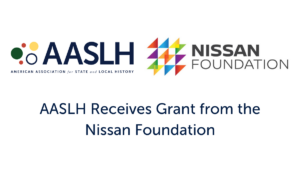 In June 2023, the American Association for State and Local History (AASLH) received a $49,797 grant from the Nissan Foundation for the "Making History Matter Tennessee" training initiative.
This project, part of AASLH's Making History Matter Campaign, will fund a network of small history organizations across the central region of Tennessee to prepare to take full advantage of the upcoming 250th anniversary of the United States in 2026. A core group of 20 to 30 history leaders, two each from 10 to 15 history museums and historic sites, will participate in trainings together based on AASLH's Standards and Excellence Program for History Organizations (STEPS) program. These leaders also will engage with AASLH's Making History at 250: The Field Guide for the Semiquincentennial and its five historical themes for the 250th commemoration.
Other aims of this initiative include connecting these leaders to the Tennessee's State Commission for the 250th, promoting inclusive history, and supporting their involvement in the Tennessee Association of Museums.
Many of these organizations are in communities that have changed or are changing around them, with more racially and ethnically diverse constituencies. The nation's 250th is a critical moment to establish greater community engagement and to present a more nuanced local and national history of Americans trying to make a "more perfect union."
The Nissan Foundation is awarding a total of $1.2 million in grants to 39 nonprofit organizations for its 2023 grant cycle, including AASLH. The Nissan Foundation was created in 1992 as a thoughtful response to the three weeks of violent civil unrest that occurred near Nissan North America's then U.S. sales and marketing operations in Southern California following the Rodney King trial verdict. In the more than 30 years since, the Nissan Foundation has awarded nearly $16 million to more than 150 nonprofit organizations to support innovative programs that break down societal barriers and build inclusive communities through education and outreach. Grant recipients promote cultural diversity across a variety of arts, education, social, and public programs in seven U.S. communities where Nissan operates.