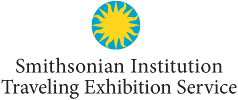 Has your museum or organization hosted a SITES exhibition, or ever thought about it? We want to hear from you!
Please join Carol Harsh and Robbie Davis at the 2015 Annual Meeting to discuss the SITES program and how we can assist in meeting your mission. We're interested in your honest impression of our offerings. We want to know why you've hosted a SITES exhibition, and why you haven't; what has worked and what hasn't; what are your challenges and what are your successes. You are our most valuable asset and we can't do what we do without you.
The focus sessions will be held in Salon Room C/D at the Louisville Marriott Downtown on Thursday, September 17th; from 3:30 – 4:30 pm. Light fare and beverages will be served.
Please contact Michelle Torres-Carmona by e-mail (torrescm@si.edu) to RSVP, indicating if you plan to attend.  If you will not be attending the AASLH meeting, please let Michelle know if there is someone else from your organization who may be interested in participating.
Hope to hear from you!
Michelle Torres-Carmona is the Director of Scheduling & Exhibitor Relations for SITES.