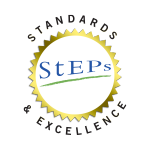 Exciting changes are happening at the nearly 1,000 organizations taking part in the StEPs program (Standards and Excellence Program for History Organizations).
Our "StEPs Spotlight" blog series highlights accomplishments by participating organizations.
Below is another example of how StEPs is helping organizations take a leap forward by improving policies and practices, opening lines of communication, and setting goals for a bright future.
Luzerne County Historical Society
Wilkes-Barre, Pennsylvania
By Aimee Newell
The Luzerne County Historical Society was founded in 1858 to preserve and promote the collective history and heritage of Luzerne County, Pennsylvania. As the oldest county historical society in the state, they have collected approximately 250,000 objects, books, and documents. The LCHS Museum was built in 1893, thanks to a bequest from local benefactor Isaac Osterhout. The society continues to house its museum collection and exhibitions in this building today.
In 1958, a family descendant gave the Swetland Homestead (built between 1803 and 1820 in Wyoming, Pennsylvania) to the society, followed in 1968 by the neighboring Hancock House, which is used for staff housing. In 1971, the society purchased a house two doors down from the museum where it continues to maintain its research library and offices. In 1972, when flooding from Hurricane Agnes devastated the Wyoming Valley, the museum and library sustained significant water damage. The society was able to repair and conserve its buildings and part of its collection. In 2010, the state of Pennsylvania gave the Denison House in Forty Fort to the society. This house was built in 1790 by one of the original Connecticut settlers in the area. Today, with six staff and approximately forty volunteers, the society presents a variety of programs and events each year, and opens its library and museum to the public year-round. The Denison House is open on summer Sundays and the Swetland Homestead is open by appointment.
Tell us how your organization is making its way through the program.
We joined StEPs in 2017. When our Executive Director signed us up, she went through the entire book and did an initial assessment. We were able to receive two bronze certificates right away. She shared an overview of the StEPs program with the board at meetings and at an August 2017 retreat. We used the various indicators and projects to help us when we wrote our strategic plan in 2017-2018. We review the appropriate sections at our board committee meetings annually as we plan our progress for the next fiscal year. We have been working on the levels as our internal needs and priorities dictate, rather than working on a specific section or on all of the bronzes, etc. This past fall, our Executive Director reviewed the entire book again and we had done enough work to qualify for an additional six bronze and silver certificates! The StEPs program helps our Executive Director to prioritize and plan our progress and goals. It also helps her to explain to the board why we need to work on these areas.
What would you say is the most significant change or improvement within your organization as a result of taking part in StEPs?
Having an overall list of goals written out. Rather than have to start from the bottom line and make a list of everything we should be doing, we have a well-thought-out plan to consult and we can dig right in to making progress and setting priorities. It helps us to define goals and plans on an annual basis.
Tell us about some other specific examples of positive changes within your organization as a result of participation in StEPs.
StEPs helps our Executive Director to communicate with the board and volunteers about what we should be doing. It also helps us build confidence and celebrate our progress, which can be hard to see sometimes. We have a strategic plan for the 2018-2021 period, which was informed by the program. We revised our Collections Management Policy. Right now, StEPs is helping us to bring more structure to our volunteer program through the interpretation section that offers several projects for organization-wide understanding of our interpretive goals and audience interaction. It is also helping us to better define goals for the board to work on and to differentiate them from the goals that the staff are working on so that we increase our productivity without getting in each other's way.
Which section of the workbook has been your favorite, and why?
Management and Collections Stewardship. We have made so much progress in the management section! And, Collections Stewardship was one of our initial certificates. It was great to recognize the work of the staff on this.
What advice do you have for organizations just starting out in StEPs?
Going through the entire book and assessing the organization's current levels at the beginning was very useful. Focus your initial goals: pick a few and work on them and be sure to set a time frame and to go back and check on your progress.