HARRODSBURG, Ky. (January 12, 2016)—Shaker Village of Pleasant Hill (member of AASLH since 2002) announces that Lilly Endowment Inc. has awarded the organization a $5.1 million grant in support of its Restoring the Spiritual Center project. The project will preserve, protect and interpret the site's two most iconic buildings, the 1824 Centre Family Dwelling and the 1820 Meeting House, which served as the spiritual epicenter of the Pleasant Hill Shaker community for nearly 100 years.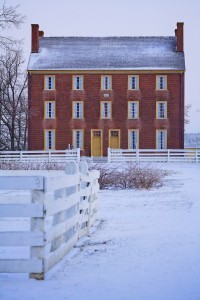 The management, care and public access to historic Shaker spaces, collections and archives will be significantly improved through the project. The two buildings are testaments to Kentucky Shaker craftsmanship, ingenuity and spirituality. The 24,000 square-foot Centre Family Dwelling was once the second largest structure in the state, and the Meeting House's design includes an intricate hanging truss system that completely supports the second floor, providing unobstructed first floor worship space.
"Shaker Village tells the story about an important religious community that helped to shape American religious life," said Dr. Christopher Coble, vice president of Lilly Endowment's religion division. "We are pleased that the Endowment is able to assist Shaker Village in its efforts to preserve the Shaker's historic legacy and make its spiritual history and insights accessible to future generations." Shaker Village is entering the initial stages of a multi-phase effort to transform the property into a vibrant cultural resource to preserve the site's future. The initiative will equip historic spaces for new community-centered programs that ignite curiosity, expand imaginations and inspire tomorrow's preservationists, conservationists and historians. "The Endowment has demonstrated a magnificent commitment to Shaker Village's future," stated Maynard Crossland, president and CEO. "This award will propel us to new heights and is an affirmation of the compelling and powerful nature of this property's potential and the approach we are taking to preserve its future."
A 2013 historic preservation site review assessed and identified endemic concerns of various degrees of deterioration that threaten to affect structural integrity, progressive damage, loss of historic fabric, and code and safety concerns throughout the property, including within the Centre Family Dwelling and Meeting House.
About Shaker Village of Pleasant Hill
Recently named a member of Discovery Destinations by Discovery Communications and a top hidden travel destination by BBC News, Shaker Village of Pleasant Hill is a landmark destination that shares 3,000 acres of discovery in the spirit of the Kentucky Shakers. With 34 original Shaker structures, the site is home to the country's largest private collection of original 19th century buildings and is the largest National Historic Landmark in Kentucky. Demonstrating a commitment to community, sustainability and ingenuity, Shaker Village embraces three pillars rooted in time-honored Shaker legacies, including balanced preservation and conservation; engaged learning and exploration; and warm, spirited hospitality. Onsite services at Shaker Village of Pleasant Hill include overnight accommodations, dining, beverage and catering services, three craft shops, exhibitions in historic buildings, a farm and garden area, the Dixie Belle Riverboat and 1,200 acres of restored native prairie. For more information, please visit shakervillageky.org.
About Lilly Endowment Inc.
Lilly Endowment Inc. is an Indianapolis-based, private philanthropic foundation created in 1937 by three members of the Lilly family—J.K. Lilly Sr. and sons J.K. Jr. and Eli—through gifts of stock in their pharmaceutical business, Eli Lilly and Company. In keeping with the founders' wishes, the Endowment supports the causes