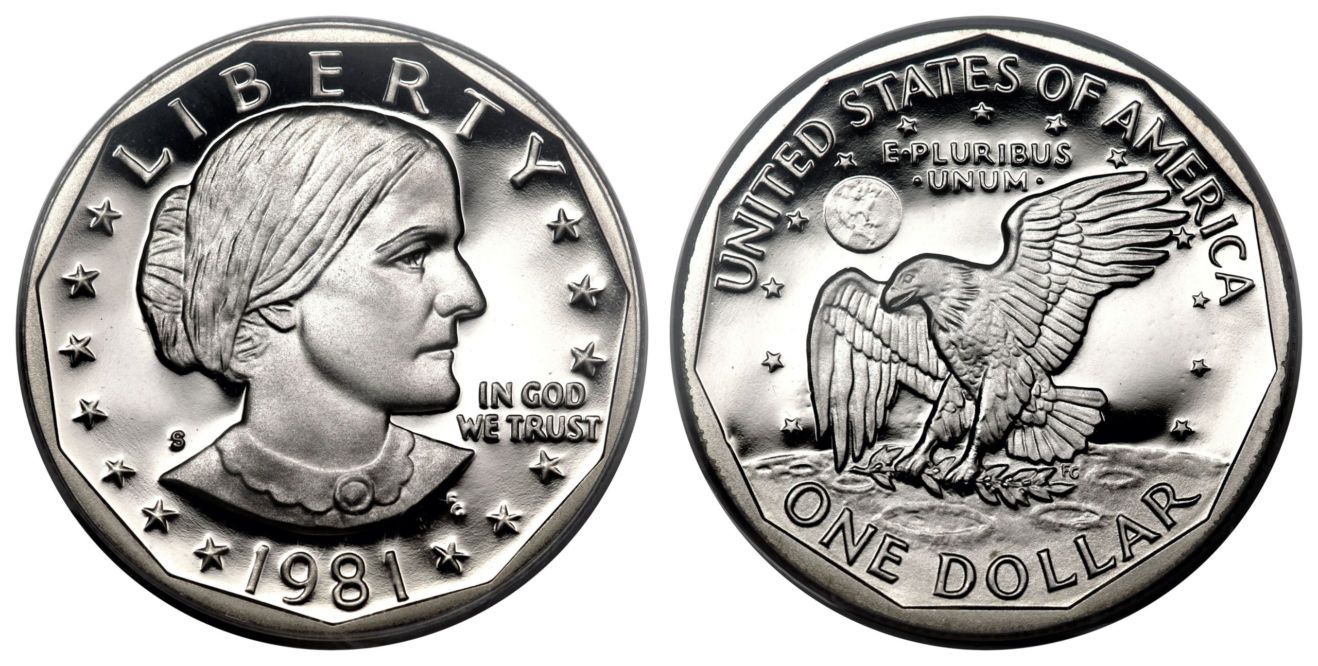 By Kimberly Robinson, WHAC Co-chair
Another year, another Women's History Month on the books! The Women's History Affinity Community hopes that you had the opportunity to commemorate women's history at your site during the month of March and that you will be able to continue to do so throughout the year. In our April blog post, to continue the theme of commemoration, we wanted to focus on how women are remembered and commemorated through objects.
One of the most common examples of this is women who have been featured on currency in the United States and all over the world. However, it may surprise you to know that the history of women in the United States being featured on our money is limited. In fact, one of the only women who has been honored (and featured solo) on paper currency or banknotes in the United States is First Lady Martha Washington. In 1886, her likeness was displayed on the $1 silver certificate. Prior to that in the 1860s, Pocahontas, a Native American woman who was a daughter of Powhatan, was featured in a group on the back of $20 First Charter Period National Banknotes in an etching of a John Gadsby Chapman painting entitled "Baptism of Pocahontas." 
Commemoration on coinage is where women truly shine (pun intended). According to the U.S. Mint, the Queen Isabella quarter, the second of two commemorative coins made for the World's Columbian Exposition in Chicago which celebrated the 400th anniversary of Christopher Columbus's voyage to the Americas in 1492, was released in 1893. Queen Isabella of Spain provided aid for Columbus's journey, and this was the first U.S. coin to highlight a woman. It was Susan B. Anthony who, with the exposition's Board of Lady Managers and approval from Congress, successfully pushed for the first woman to be featured on a commemorative coin. 
It wouldn't be until 1979 that a U.S. woman would be featured on a coin in active circulation: Susan B. Anthony herself.
The U.S. Mint notes that the Susan B. Anthony dollar coin was a replacement for the Eisenhower dollar and was minted from 1979-1981 and again in 1999. Sacagawea, a Shoshone woman and another well-known figure from Native American history, was the next woman to be highlighted on a circulating coin. She is most recognized for her heroic efforts from 1804 to 1806 assisting the historic Lewis and Clark expedition. From 2000 to 2008, Sacagawea was displayed on the obverse of the coin, which was the first dollar ever made with an outer layer of manganese brass which gave it a golden color. While that program ended in 2009, she is still featured on the dollar coin today as a part of the Native American $1 coin program. Sacagawea's image is on the obverse with a variety of different designs on the reverse each year.  
Recently, the focus of women on currency has shifted to another form of coins: quarters. Starting in 2022, the American Women Quarters Program launched by the U.S. Mint is celebrating the contributions and achievements made by women in the history of the United States. This four-year program will run through 2025 and will showcase up to five new coin reverse designs each year. In 2022, we will see Maya Angelou, Dr. Sally Ride, Wilma Mankiller, Nina Otero-Warren, and Anna May Wong. The following year will feature Bessie Coleman, Edith Kanakaʻole, Eleanor Roosevelt, Jovita Idar, and Maria Tallchief. 
Our discussion about women's history and commemoration does not end here. On May 4 at 1 pm ET, please join us for the first in a series of bi-monthly chats called "What's up Women Wednesdays" where the Women's History Affinity Community will discuss key topics and sites focused on women's history across the United States including commemorations. Take this opportunity to highlight women's history events at your sites or just casually chat and get the latest information on AASLH and the affinity community with a group of like-minded individuals. More information will be shared in the community center closer to the event.